Hey Flower growers! One benefit of this digital, stay-at-home age, is the plethora of informative presentations available as Webinars to growers around the world.
This post has a list of several upcoming webinars – both live and recorded – that can help you stay on top of the latest developments in greenhouse production.
OMAFRA Webinar on Nutrients and the Microbiome:
If you missed the OMAFRA-led webinar on microbiomes in your greenhouse water, and how that affects plant health, you can find the recording below.
See this blog post for some background on why this is the newest field in water and nutrient management.
Meeting Recording – view here. Access Passcode: V#i94goW
"Ask the Expert" Webinar From Greenhouse Management Magazine
If you missed the 4 hour webinar today (Sept 30th) from Greenhouse Management Magazine, no fear! There will be a second session October 27 – you can register here. I have to say, I learned some interesting things today – such as using soil amendments to potentially suppress fungus gnats AND thrips.
There's a whole slew of topics covered over the afternoon, including lighting, automation, disease control, media, heating — the list goes on!
Greenhouse Management and Lighting Webinars from Greenhouse Grower
Greenhouse Grower Magazine has an upcoming webinar on October 15th, covering the daunting topic of managing large or multi-site greenhouse operations effectively.
You can learn more about, and register for the Webinar here.
Greenhouse Grower Magazine has also made their webinar on maximizing efficiency and production with lighting – which "aired" in July 2020 – available to watch whenever (i.e. "on demand").
Preparing For Spring Crops from Grower Talks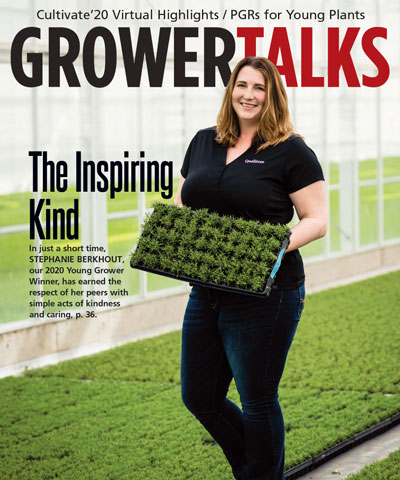 Fall is the perfect time to think about Spring! Everything from preparing your orders, to preparing your greenhouse re: sanitation and maintenance.
Ball Horticultural is talking about Spring prep as part of their "In the Break Room" webinar series with Grower Talks. Register for the free webinar on October 29th here.
Northeast Greenhouse Conference and Expo Online
As with the Canadian Greenhouse Conference , our U.S. counterparts are also moving their regional/national meetings online. One of the good ones out there is the Northeast Greenhouse conference, that runs from Nov 4- Dec 16. You can register for all 6 presentations for $100 USD or pick individual talks for $25 USD each.
Topics cover pest and disease management in chrysanthemums, new strategies for root rots, and improving plant quality with PGRs. Some of the best names in the biz are presenting, including Dan Gilrein (IPM Specialist) from Cornell Cooperative Extension, Mary Hausbeck (Plant Pathologist) from Michigan State, Margery Daughtrey (Plant Pathologist) from Cornell University, and Suzanne Wainwright (Consultant; Buglady Consulting).